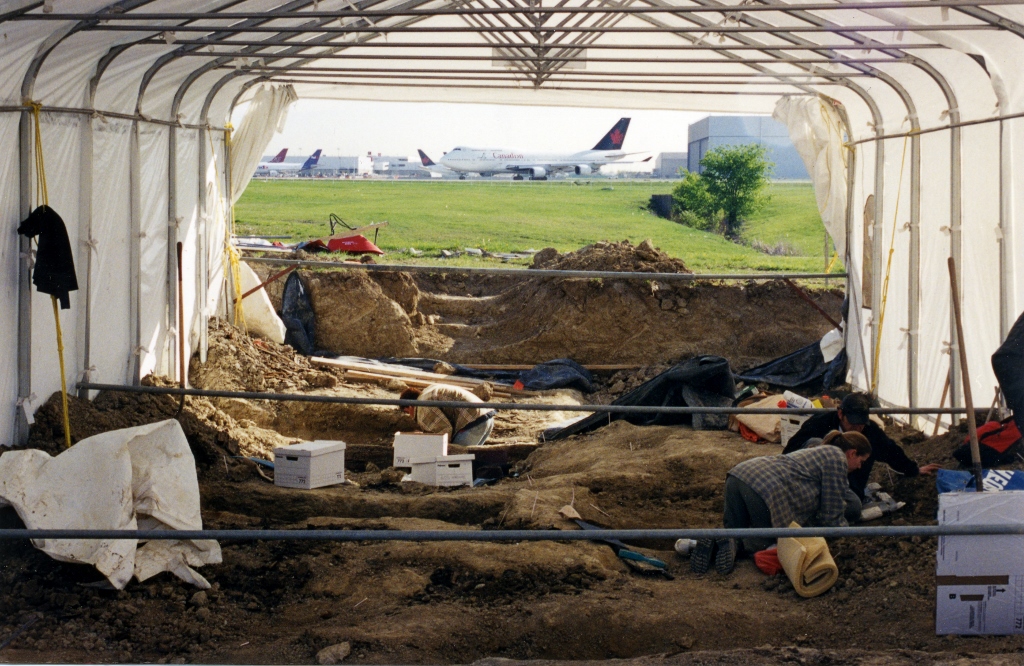 In the fall of 2000, ASI was involved in the relocation of Elmbank Cemetery, located within the active infield area of  Lester B. Pearson International Airport (Mississauga). Established in the churchyard of the original Elmbank mission, from 1832 to ca.1933, Elmbank Cemetery was the burial ground for many of northwest Toronto's early Roman Catholic settlers. Because the mission was designed to answer all the spiritual needs of local Catholics – some of whom travelled many miles to attend mass or seek spiritual guidance – it also incorporated a church and a rectory.
ASI's archaeological assessment of the Elmbank site revealed nothing of the structure of the original Elmbank mission, which had been established on a three to four acre tract of land between Fifth Line and the banks of the Etobicoke tributary. However, our excavations were able to locate the stone foundation of the later 1885 red brick church, demolished in 1930, as well as the associated rectory. Although most of the church's interior and exterior hardware was removed for use in other churches prior to demolition, ASI was able to recover some broken fragments of stained glass and ceramics.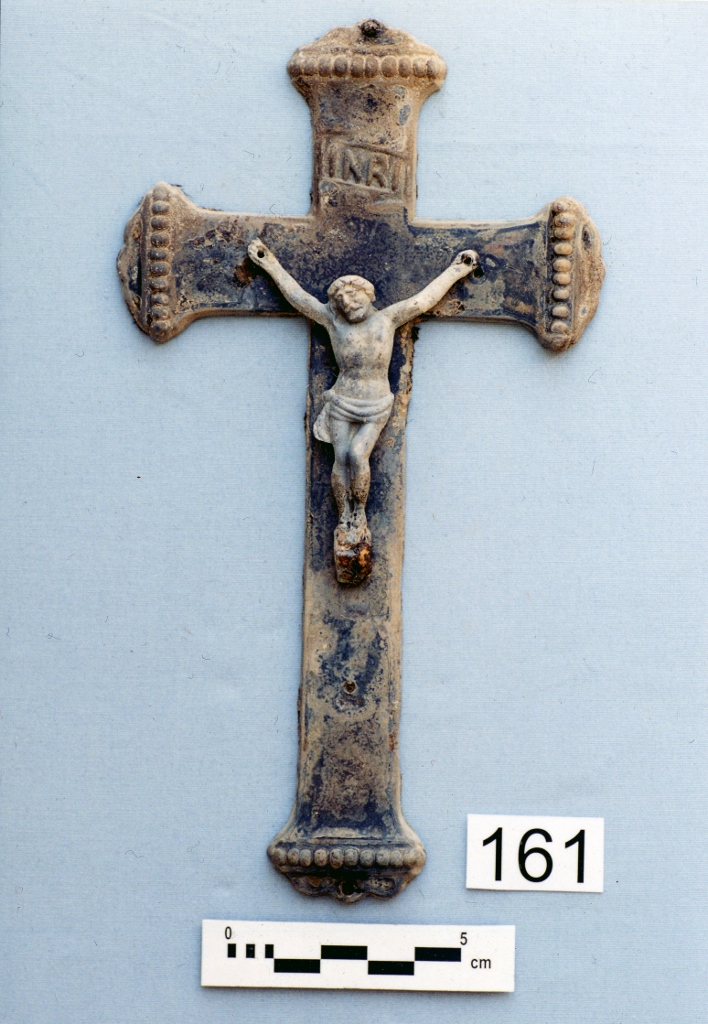 The cemetery itself was marked by a variety of tombstones, including 23 standing markers. These markers were intended to delineate both individual and family plots, although most of these tombstones were moved after Hurricane Hazel destroyed part of the cemetery in 1954. All of the monuments were transported to Assumption Cemetery to mark the final resting place of the individuals.
After the removal of the monuments, full-scale excavations began in the spring of 2001 and continued throughout the summer. During this time, ASI's team of dedicated archaeologists exhumed 622 individuals from the cemetery.
Many of the people at Elmbank had been buried with a variety of personal items. Among the most common were rosaries, rings, medallions, coins, bottles, and crucifixes. Some individuals were found with articles that reflected their health at death, such as glass eyes and dentures. A variety of coffin hardware was also recovered, including name plaques, handles, and decorative screws. All coffin and personal items were reinterred with the original owners.