Meet Lisa, Field Technician for our Mitigation Division!
She brings a fresh approach to ASI with her strong commitment to archaeology as social activism. Lisa has devoted herself to the growing field of African Canadian archaeology after being inspired by the stories of the Underground Railroad.
How did you become an archaeologist?
I did not find archaeology, rather it discovered me!
As I pursued my avid interests in human history and evolution the area of archaeology, I became increasingly interested while sitting in a class lecture when my TA mentioned briefly a site she was working on associated with the Underground Railroad in Canada. From there I asked questions, and met with the right people such as professors, researchers and historians to help me gain more knowledge about this emerging field of African Canadian Archaeology. I hope to use archaeology as a tool for social activism to empower, educate and reconnect historically underrepresented peoples to their material and cultural past.
Where did you go to school?
I earned a Bachelor of Science from University of Toronto (Mississauga & Toronto Campus).
I was granted a wonderful opportunity to do an Independent Reading Study course with Dr. Michael Brand from the University of Toronto, Mississauga Campus on the archaeology of the Canadian Underground Railroad. This experience has led me to a desire to pursue an educational and professional career in identifying and examining the archaeology of early Black settler sites here in Canada. I look forward to continuing my education this Fall 2017 at York University within the Social Anthropology program to further analyze this topic.
If you weren't an archaeologist, what would you be?
A Clothing Designer & Creative Director for Film/Print Media
Who is your favourite historical figure and why?
An amalgamation of revolutionary historical figures including Marimba Ani (Social Anthropologist), bell Hooks (Writer/Feminist/Activist), and Ivan Van Sertima (Archaeologist).
Why? A collective of historical figures, each symbolizing the quest for challenging contemporary knowledge systems & discourses of Black history, and advocacy for producing and disseminating a solid body of information that accurately depicts the African Diasporic past
If you were an artifact what would you be?
A Figas– an object symbolizing liberation, resistance and network during the height of slavery in the West during the 17- 19th centuries. These objects were known as fist amulets originating from West Africa. They were later reproduced, consumed, and circulated by slaves throughout Latin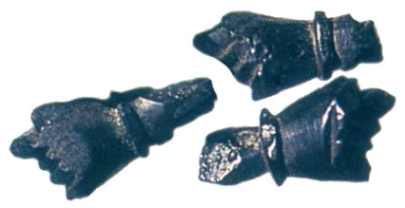 America & the Caribbean as a signifier of strength, power, and resistance against everyday bondage. What is more fascinating about them is that such remains are where archaeologists can gather information on the materialization of racism and identity to index how enslaved Africans and freed peoples through social agency refuted dominate social structures and how they engaged in a wider shared cultural identity, belief system and practice.
What is your favourite site memory?
"The Ward" – one of Toronto's largest urban archaeological projects in North America with some of the most remarkable artefacts linked to the city's earliest migrant and immigrant settlers during the mid – 19th to early 20th century. It was also a multi-ethnic community home to early Black, English, Irish and Chinese working class residents whom all contributed to, and impacted Toronto's industrial complex.
My least favourite thing about archaeology is…
sore muscles!
To pass the time on site, I…
chat with my teammates, daydream and/or work harder!
When I'm not working, I like to…
draw/design, research, cook & spend time with family & friends.
My motto is…
"Adapt, Evolve, Survive" – life forms are constantly adapting to new cultural and ever-changing climatic environments. Once these changes occur over short/long time scales, and we have endured such changes, we then have the potential to survive another day. This is more nuanced of course!
If I could go back in time and excavate any site in the world, I would choose…
The Kingdom of Great Zimbabwe/The Great Enclosure in Africa. It was home to the Shona and Zulu people from the mid 12th to 19th centuries. It was a dynamic site characteristic of rulership and territorial expansion, sophisticated social and political organization, warfare, long distance trade and exchange, as well as craft specialization such as iron production, farming and pastoralism throughout pre-colonial South Africa.