For two days in February, ASI hosted two job shadowees from the Architectural Conservancy of Ontario's NextGen job shadow program. Meet Jocelyn Kent and Caleb Fleisher and learn about what they got up to with us!
Jocelyn Kent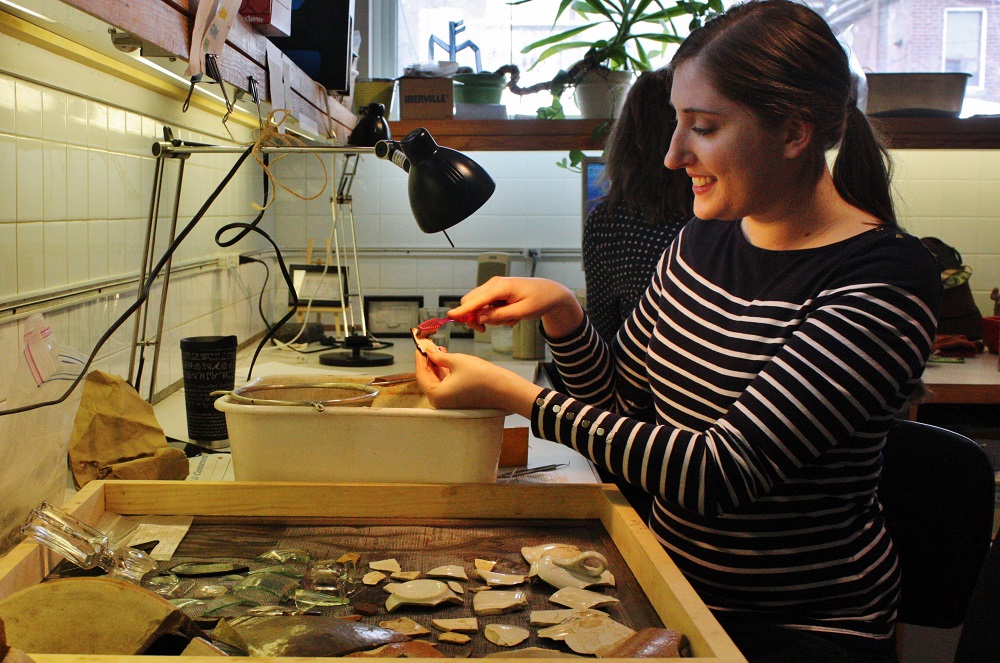 My name is Jocelyn Kent. I visited ASI on February 18th as part of the 2015 ACO NextGen job-shadowing program. I earned my Honours BA in History at the University of Western Ontario in 2013.
Since then I've been exploring careers in the heritage industry. Primarily, I've worked in museum programming and on digital preservation projects involving photographic negatives and rare books. I wanted to learn more about aspects of heritage in which I was interested, but had not yet the chance to pursue. By applying to job-shadow at ASI, I hoped to learn how industry professionals conserve and communicate the past with a wider variety of artifacts.
Although I had previously participated in an archaeological excavation, my day at ASI offered me the chance to learn about everything that happens afterwards – from cleaning and organization, to analysis and report writing. Throughout the day I got hands-on experience working in the lab. I took part in cleaning and sorting 19th century glass and pottery artifacts, as well as rehabilitating (i.e. re-bagging and re-labelling) animal bones and teeth from a 16th century Petun site. The lab manager Caitlin, and other generous staff members at ASI, shared with me what they do and taught me some basics of collections management, safe storage practices, and preparing objects for exhibit display.
I'm grateful to ASI and the ACO for giving me the chance to work with archaeological collections and the professionals that manage them. It was a fun experience, and gave me insight into the variety of careers paths available in the heritage industry.
Caleb Fleisher
My name is Caleb Fleisher. On the 19th of February, 2015 I visited ASI as a participant in the ACO NextGen job-shadowing program. I am currently a student at the Willowbank School for Restoration Arts in Queenston, Ontario.
At this program we are exposed to all of the hard skills and academic components in the restoration of heritage buildings. rThe school is located in a national historic site that functions as a working laboratory with an ever increasing emphasis on the cultural landscape.
I also have a B.A. In Environmental Studies from Carleton University. The environment and heritage have both been strong themes in my life. I grew up in an 1824 log cabin (with additions) on a rural property near Guelph, Ontario. While attending university I worked in landscape construction which encouraged my learning of many of the hard skills now learned at school. Further building on these skills I was involved in the renovation of several older (but undesignated) buildings after graduating university. Prior to coming to Willowbank, I worked for the Toronto and Region Conservation Authority in trail construction and maintenance.
As many of my experiences had taught me about the hard skills of heritage restoration I was looking for opportunities to apply the academic components of heritage.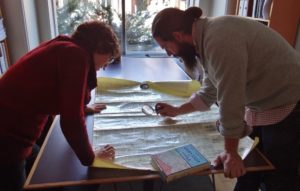 At ASI I was able to work with Heidy and Annie from their Cultural Heritage division. The day entailed writing a preliminary cultural heritage assessment report for a street in Mississauga that was to be disturbed for an infrastructure project. Primarily, my day consisted of acquisition and assessment of historical maps of the area to facilitate an understanding of the character of the site and identify any culturally significant features that were to be in the path of construction. I was then given an opportunity to see one of the other offices and talk to some of the other employees many of whom are involved in the archaeological side of the industry. They have a very impressive collection of artifacts collected in many parts of the province.
The whole experience was a great way to broaden my experience In the heritage industry. The staff at ASI were very welcoming and insightful while they took time out of their busy days to teach me. I would recommend this opportunity that ACO provides for anyone who wants some more experience in the heritage field.
Thanks to ACO NextGen directors for placing Caleb and Jocelyn with ASI!