For the past few months, the Laboratory Services team at ASI  has been preparing many of our collections for the purpose of transferring them to Sustainable Archaeology's London facility.
Sustainable Archaeology is a collaborative initiative between Western University and McMaster University, located at the Museum of Ontario Archaeology (London), as well as McMaster's Innovation Park (Hamilton). It is funded by the Canadian Foundation for Innovation and the Ontario Ministry of Research and Innovation.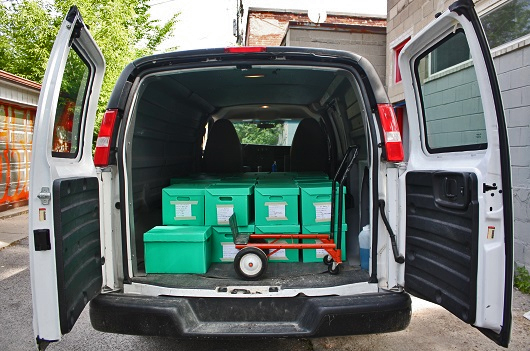 The idea behind Sustainable Archaeology came from the (literally) growing problem of the province's archaeological collections storage. As it stands now, the Ontario government is not responsible for the archaeological materials that are acquired from the excavation of sites — professional archaeological firms and individual archaeologists are accountable when it comes to storing the collections. This poses a major problem; not only because space is limited but also because it raises the issue of proper curation and preservation. Many archaeological collections in Ontario are stored in the basements, garages and living rooms of individual archaeologists — not because they like the idea of decorating their homes in cardboard, but simply because they have nowhere else to put them.
There is also the issue of inaccessibility: when sites are stored in various places around Ontario, students and researchers have the difficult task of tracking down items and gaining access to collections.
According to their website, Sustainable Archaeology is designed to "bring together thousands of previously inaccessible archaeological collections generated from across the Province of Ontario as a result of research and commercial consulting activity." At their state-of-the-art, climate-controlled facilities in London and Hamilton, 18,000 square feet of space is designated for collections, with a capacity to store over 80,000 standardized boxes of artifacts. The approved green boxes (pictured) are acid-free, corrugated polypropylene "bankers" style boxes, and are a customized size in order to fit the shelves at Sustainable Archaeology. The nature of these boxes aids in the preservation and maintenance of artifacts.
Sustainable Archaeology explains:
"All new collections will go through an Object to Information conversion process where digital data, macro- and microscopic imagery are recorded, and field records and reports are digitized. Collections will be marked with radio frequency identification tags (RFID) to constantly monitor the location and status of all holdings. Tracking the holdings will be aided through a connected computer network and data storage archive. The digital collections will be available remotely through a web-based interface."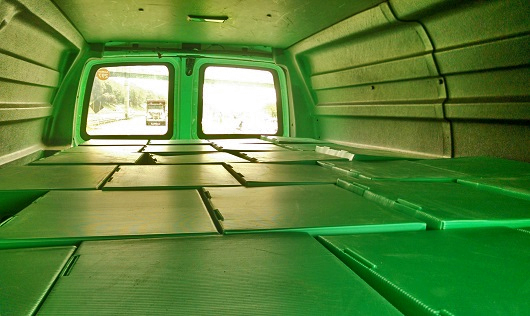 By housing all of the province's archaeological collections in two places (instead of hundreds of basements and/or garages), future studies in Ontario archaeology are made easier for students and researchers. And we can all rest assured knowing that the collections are being cared for in a place where preservation is a fundamental component of Sustainable Archaeology's mission and service.
Here at ASI, we have been partnering with Sustainable Archaeology to figure out how best to accomplish these artifact transfers. Older sites need to be reorganized and moved into archival quality bags and boxes to bring them up to modern collection management standards. We have been trying to find the most efficient ways to marry the requirements of a modern facility with the reality of how legacy collections are stored, organized and documented. The labour involved is more than worthwhile; these important sites will now be properly conserved and available for a new generation of researchers.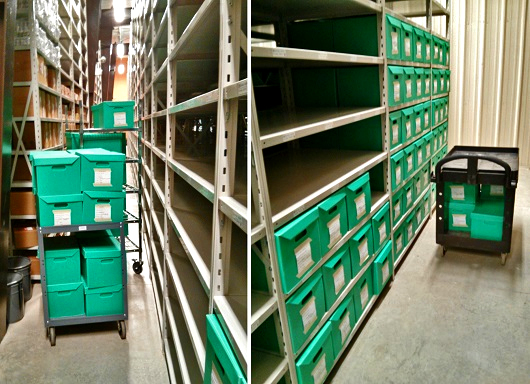 The collections that were transferred to Sustainable Archaeology show the depth and breadth of the nature of Ontario's past and the work that we do as a CRM firm. We sent artifacts from: the excavation of a 19th century convent and hotel in Niagara, a typical 19th century farmstead in Vaughan, a 15th century Huron-Wendat special purpose campsite in Thornhill, and a 15th-16th century Huron-Wendat village in Pickering. These sites also represent a variety of different phases of the archaeological process, from initial survey and surface collections, to block excavations, and full scale mitigation. This diversity exemplifies how varied and exciting Ontario archaeology is!
Over the next year, Archaeological Services Inc. will be making regular trips to London to drop artifacts and we hope that others in the industry will begin the process, as well. We believe Sustainable Archaeology's efforts are a long-time coming and a vital part in the endurance of our industry.