As part of our historical recipe project, our Assistant Manager of Communications Caitlin Coleman brought in raspberry shrub, a fruit and vinegar syrup that is used to make refreshing beverages!
Since we were sampling this recipe before a long weekend, we decided to try our hand at cocktails, and used the raspberry shrub to make some simple gin mixed drinks.
In the days before refrigeration, a vinegar based shrub was a great way to preserve seasonal fruit using both sugar and acid. The combination of fruity, sour and sweet notes makes a refreshing drink during the hot summer months, similar in flavour profile to lemonade. We decided to sample the raspberry shrub right before the August long weekend, when raspberries were at their peak and we were looking to toast our upcoming three days off.
For a recipe I looked to my favourite Canadian historical cookbook, Culinary Landmarks which was published in Sault Ste Marie in 1909. My source did not disappoint, in that it contained two recipes for raspberry shrub, with slightly contradictory instructions. I decided to go for the simpler iteration.
I covered fresh raspberries with a good red wi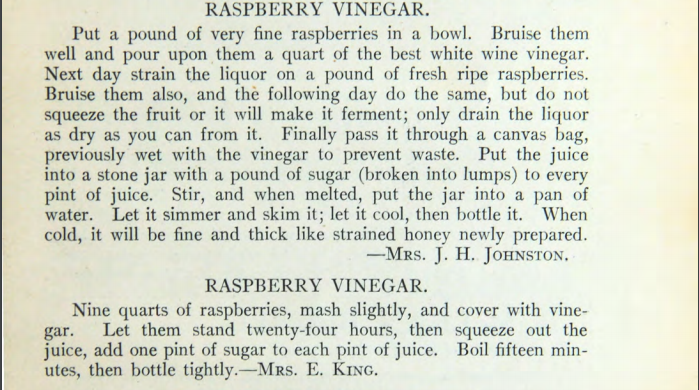 ne vinegar and let them macerate together for 24 hours. I then pushed the mixture through a fine mesh sieve to extract all of the juice (a step specifically advised against by recipe author #1). I measured the resulting liquid and added in an equal quantity of sugar, then brought the mixture to a boil until the sugar dissolved. Once refrigerated, the liquid actually gelled up and I had visions of ruined cocktails running through my head! Fortunately, at room temperature the shrub turned back into beautifully thick, bright red syrup. For cocktails we mixed a spoonful of shrub with soda, a slice of lemon and a slug of gin. It made quite a sweet drink with the vibrant flavour of fresh raspberries.
In making cocktails out of our raspberry syrup, we were connecting to a long contentious history where shrubs were popularized both by the Temperance Movement and by the rise of cocktail culture in the 1860s. The word "shrub" has referred to many different types of drinks over time, but the earliest reference to a shrub as we now understand it is in the American Frugal Housewife, published in Boston in 1832. The author Lydia Child included a recipe for raspberry shrub that was quite similar to the one I made, and was clearly non-alcoholic, but for reasons of economy rather than morality.
"Raspberry shrub mixed with water is a pure, delicious drink for summer; and in a country where raspberries are abundant, it is good economy to make it answer instead of Port and Catalonia wine."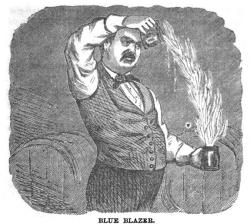 One of the first recipe books for cocktails was written by Jerry Thomas, the former bartender at the Metropolitan Hotel in New York City. His A Complete Cyclopaedia of Plain and Fancy Drinks came out in 1862, helping to create the cocktail craze that spread throughout the United States and Canada. Thomas' signature drink was the "Blue Blazer" in which a lit cocktail was tossed back and forth between two glasses to make an arc of flame. His "Cyclopaedia" contained multiple recipes for vinegar based shrubs, which were clearly intended to be mixers.
By the early 20th century times had changed, with shrub now considered an excellent temperance beverage. In 1903 Good Housekeeping claimed that "Gooseberry shrub makes a delicious 'winey' temperance drink," and shared a recipe that called for ripe gooseberries, cider vinegar, and sugar. Shrubs also show up in reference to pharmacists and druggists, who began using the tart syrup in their soda fountains.
With the proliferation of refrigeration and the end of prohibition, demand for shrubs waned. But today, these tart and sweet syrups are having a resurgence in popularity in craft cocktail bars where their bold flavours are being enjoyed again.
Written by Caitlin Coleman 
References
Child, Lydia M.
The American Frugal Housewife: Dedicated to those who are not ashamed of economy
Samuel S. & William Wood, 1832
Dietsch, Michael
Shrubs: An Old Fashioned Drink for Modern Times
The Countryman Press, 2016
Smith, Andrew F.
Drinking History: Fifteen Turning Points in the Making of American Beverages
Columbia University Press, 2012
Staib, Walter, David McCullough
Sweet Taste of History: More than 100 Elegant Dessert Recipes from America's Earliest Days
Lyons Press, 2013
St. Luke's Woman's Auxiliary
Culinary Landmarks, or, Half-Hours with Sault Ste Marie Housewives
Sault Ste. Marie, 1909
Thomas, Jerry
The Bartenders' Guide, A Complete Cyclopaedia of Plain and Fancy Drinks
Dick & Fitzgerald, 1862