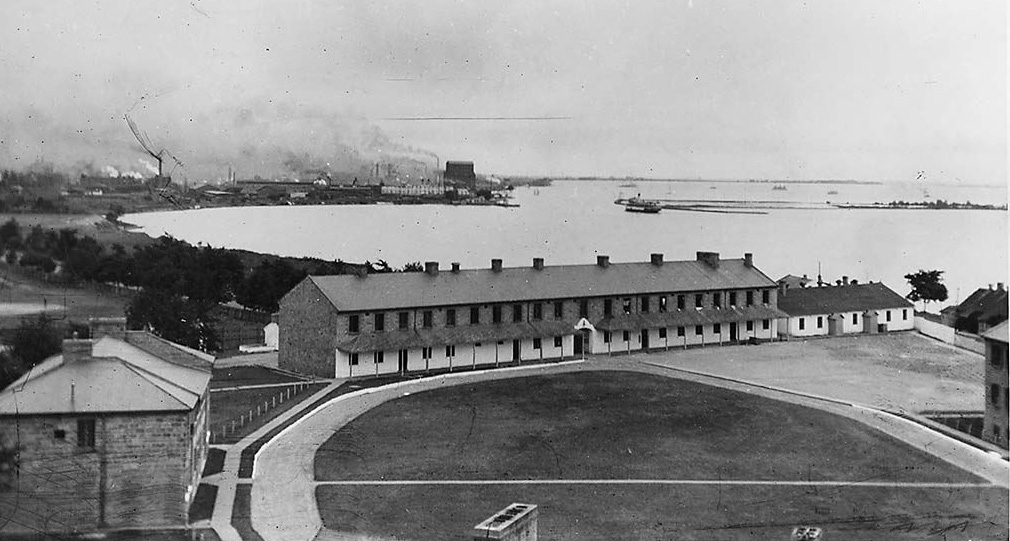 In 2004, ASI was contracted by Exhibition Place to determine the archaeological potential south of Princes' Boulevard and immediately west of Newfoundland Drive in anticipation of a possible construction project in the area. The area is known to have been the site of New Fort – a complex of 29 military features (ca. 1840-1870) built by the British to compliment the garrison at Old Fort York. The garrisons were built as a result of the increasing fear of conflict with our southern American neighbours. The only remaining building from this complex is the Officer's Barracks, which is now known as Stanley Barracks. While initial investigations explored the potential for remains of a number of buildings, our work eventually focused on the East Enlisted Mens' Barracks, seen in the photograph below.
In total, eight long trenches were placed in the parking lot in order to potentially intersect its foundations. During the excavation of one of the trenches, stone wall foundations, builder's trenches and a drain were found, dating to approximately 1840 and belonging to the Barracks building. The walls of the foundation were made of cut limestone and a deposit of artifacts dating to the first half of the 19th century was uncovered beside the drainage system.
Additional trenches excavated in 2008 intersected an 1861 wooden structural addition to the Barracks building for the Royal Antillery, as well as a series of support posts for an extensive wooden porch around the Barracks. Those excavations also yielded some fascinating artifacts, including smoking pipe fragments, coins and a 16th (Bedfordshire) Regiment of Foot button, dating to between 1863 and 1870.
The Barracks complex was constructed in limestone and brick and was built to house over 300 men. Since its discovery in 2004 and our work in 2008, ASI has conducted further excavations to document the foundations. In the spring and fall of 2012 our work has also yielded other interesting artifacts including fragments of chamber pots, two medicine bottles, large ONE/CENT coins (one dated to 1859), bone and shell buttons, slate pencils and inkpot fragments, and bone utensil handles and brushes. In addition, many fragments of ceramic plates and cups were recovered.
The site has attracted much media attention over the course of the excavations. Hotel X is now constructed on the site which has an exciting design feature – the foundations of the East Enlisted Mens' Barracks will be preserved underneath a glass walkway entrance, allowing visitors of the hotel a glimpse into the rich history of the Fort.