The nature of our job means that sometimes we stumble across unusual and eerie things. We've searched our archives to bring you three examples of creepy finds or strange sites, which most certainly sent a shiver down the spine of the archaeologist who uncovered them.
Frozen Charlotte 
The first object in our series is a tiny porcelain doll found at the Glover Road site in Hamilton, Ontario. These nineteenth-century dolls often have a spooky look to them, but what makes these particular dolls even more eerie is the story behind their creation.
Jill Mudgett (2010) explains the story and its meaning: (Youth, Refinement and Environmental Knowledge in the Nineteenth-Century Rural North) "The poem told the story of a young woman named Charlotte and a New Year's ball. Charlotte did not want to conceal or rumple her gown for the ball, so she refused her mother's suggestion to wrap in a blanket, laughing, 'to ride with blankets muffled up, I never would be seen.' Instead, Charlotte rode unprotected in the open sleigh the 15 miles to the ball, her only covering being her silken cloak and shawl, bonnet, and gloves. At first 'exceedingly cold,' Charlotte grew warmer and eventually silent in the sleigh until her young escort reached the ballroom in the village and found her a 'stiffen'd corpse.' Clearly, fashion dominated Charlotte's concerns and her adherence to its dictates ultimately ended her young life. (Mudgett, 2010:101-102)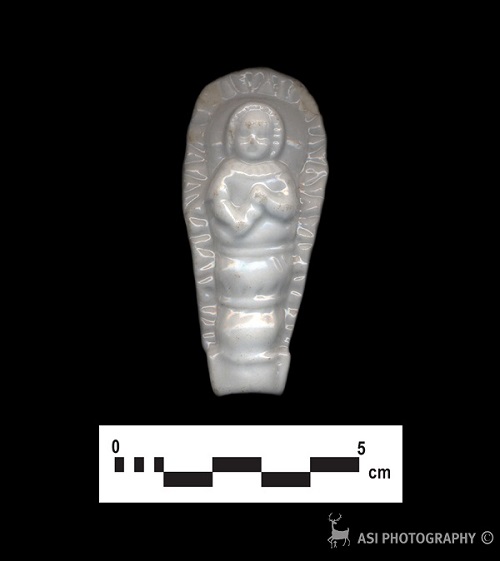 Manufactured as early as the 1850s, these dolls were known as "Frozen Charlotte" or "Frozen Charlie" and they actually look frozen – unlike other china dolls of the time that had moving limbs (Russell 2013). After reading an article in the New York Observer on February 8, 1840 about a young woman who froze to death while riding to a ball on January 1st of that year, nineteenth-century humorist and writer, Seba Smith, published a poem about the tragedy in The Rover in 1844 entitled "A Corpse Going to A Ball" (later titled "Frozen Charlotte, or "Fair Charlotte") (Mudgett 2010: 101).
The poem also inspired a folk song by the same name, composed by William Carter and you can read the full lyrics if you click here.
Finally, to end on another peculiar note, these little figures were sometimes baked into children's birthday cakes or Christmas puddings to be found by the tiny guests as party favours as they bit into their piece of cake (Russell 2013).
Attention young ladies: please remember to wear weather-appropriate clothing… or you'll end up frozen and baked in a Christmas pudding.
A Window to a Corpse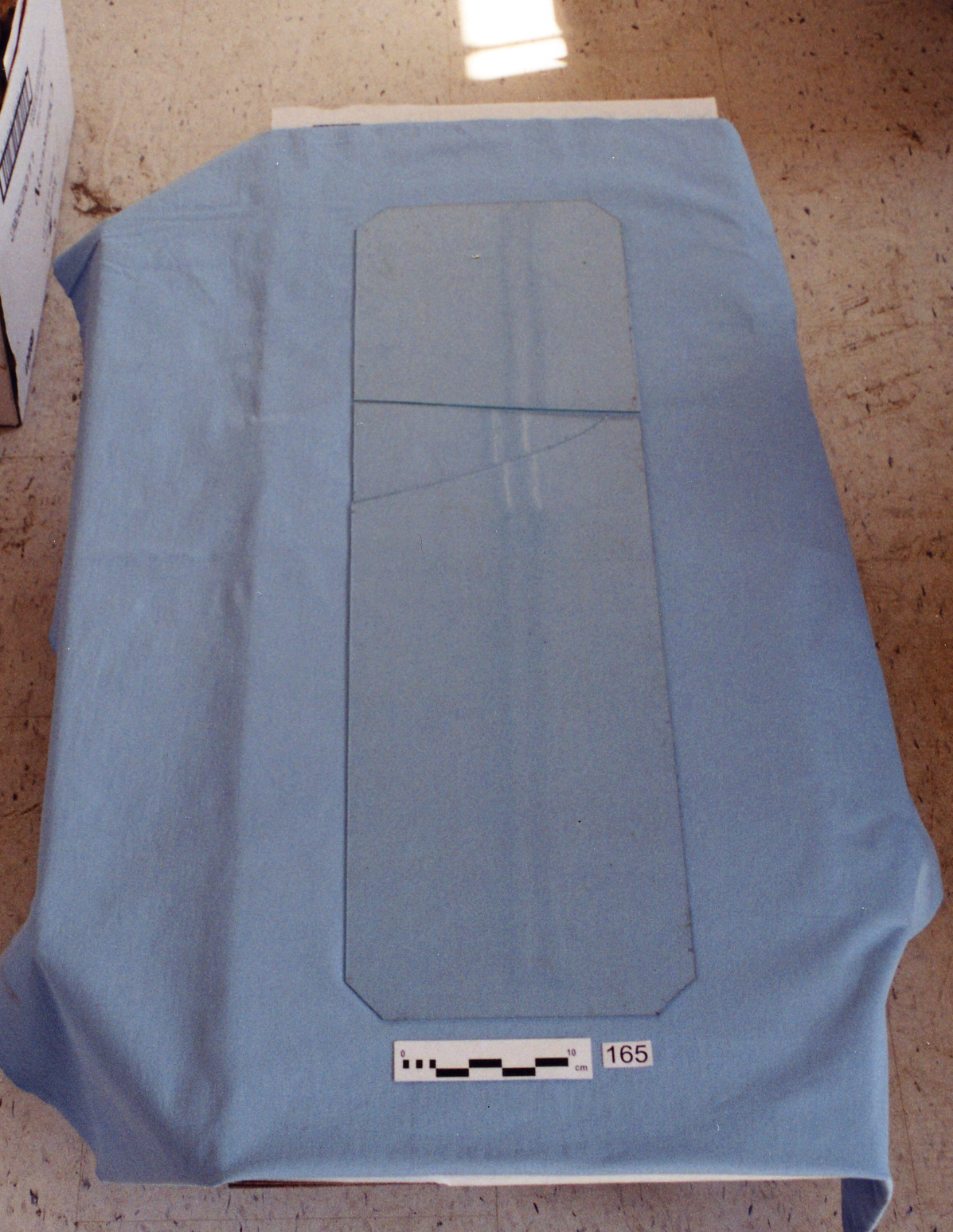 The second item in our series is a coffin viewing window from the Elmbank Cemetery – a nineteenth-century site which was excavated by ASI in 2001 to make way for a new runway at Lester B. Pearson International Airport in Toronto. A total of 634 burial shafts were excavated and recorded, while 622 individuals were documented, exhumed and reinterred in another cemetery.
According to Philip J Woodley (1992: 47) "Coffin windows were simply a hole through the coffin lid with a pane of glass fixed in place. Presumably this allowed the body to be viewed without leaving the coffin open." Edward L. Bell (1990: 58) notes that viewing glass plates are commonly found at cemeteries dating after the mid-nineteenth century, and oval, trapezoidal or rectangular viewing glass shapes are found on archaeological sites all across Canada and the United States. Bell explains that the "glass view plates may simply reflect efforts to ornament burial containers, or their use may be related to concerns about disease, fear of apparent death, or the increasing importance placed on display of the dead."
The viewing window glass pictured here is from Burial #165 at the Elmbank Cemetery. According to the site report, coffins with viewing glass were most common in burials of older individuals; 36% of the coffins from elderly burials included a viewing window. The data from the Elmbank Cemetery suggests that these viewing windows became popular in the mid-1860s and disappeared after 1906.
"Pet Sematary"
Although this site is not from a Stephen King novel, it is a tad on the peculiar side.
In 2005, ASI undertook a Stage 4 mitigative excavation of a historic Irish homestead site in Markham, Ontario. After the topsoil had been stripped, the archaeologists found themselves faced with the fully articulated (whole animal) burials of 15 farm animals – two sheep, five cattle (four of which with associated foetal or newborn bones) and four horses. How did they die?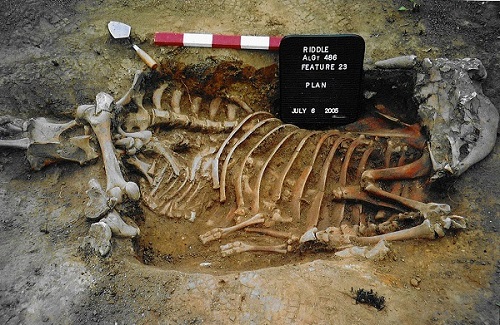 Because of the high number of animal burials within a small section of the site, our crews were concerned about disease transmission. In particular, anthrax (Bacillus anthracis) was a potential risk, as documented cases of anthrax outbreaks did occur on nineteenth and early-twentieth century farmsteads. Historically in southern Ontario, anthrax outbreaks were often attributed to pasturing livestock in areas contaminated with waste matter from tanneries and other textile industries dealing with animal material (Dragon et al. 1999). Amazingly (and disturbingly for the archaeologists), anthrax spores can remain dormant and viable in soil for decades. In fact, 200+-year-old anthrax spores have even been recovered from animal bones in South Africa's Kruger National Park (Smith et al. 2000).
After carefully exposing and analyzing the burials from the Riddle site (while wearing head-to-toe protective health and safety equipment), our archaeologists were not, in the end, able to pinpoint the exact cause of death. We hypothesize that the four horses died of old age (dental analysis showed they were more than 17 years old) and the sheep may have been killed by a carnivore, a fire or exposure to the cold. The cow remains, and associated foetuses, indicate possible death as a result of pregnancy or birthing complications.
And, we are pleased to say, no one contracted anthrax.
Written By: Dr. Katie Hull