Meet Thanos Webb – our half  American, half Greek staff archaeologist. In between taking care of his three-year-old twins, drinking copious amounts of coffee and wearing cowboy hats, Thanos is finishing up a PhD from UCLA.
How did you become an archaeologist?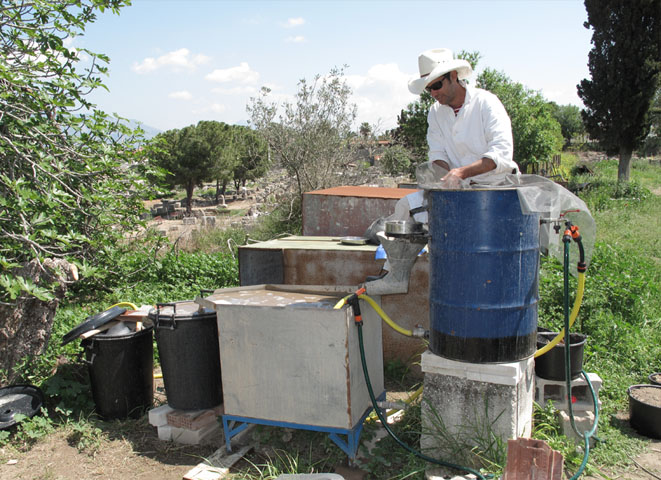 When I was ten, my family paid a visit to an uncle who was directing an underwater excavation. After that experience,
I never imagined doing anything else
(Photo right: Thanos using the water sieve he built himself using scrap materials found around the site in Corinth. In the background is the 'bema' where St. Paul is thought to have spoke to the Corinthians.)
Where did you go to school? 
I did my MA in Nautical Archaeology at Texas A&M and my PhD (ABD) in Archaeology at UCLA.
If you weren't an archaeologist, what would you be? 
I always thought I would make a good dance instructor… I just need to learn how to dance first.
Who is your favourite historical figure and why? 
Gloria Steinem – it's the 21th century, everyone should be a feminist.
If you were an artifact what would you be? 
An expedient bone tool.
What is your favourite site memory? 
When Christian pilgrims would sing hymns to St. Paul at Ancient Corinth.
My favourite thing about archaeology is… 
… stratigraphy!
To pass the time on site, I… 
… sing.
When I'm not working, I like to… 
… burn things on the BBQ.
My motto is… 
… lifted from Indiana Jones: "It's not the years, it's the mileage."