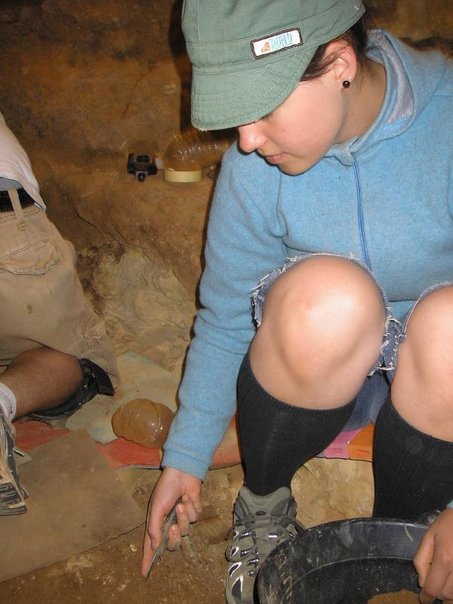 Meet Heidy. She works in our Built Heritage and Cultural Heritage Landscape Division to study, evaluate, and document heritage properties.
Heidy has a particular knack for investigating creepy places: in the real world she's an explorer of abandoned properties, and in the virtual world she's an explorer of the fantasy realms of Skyrim, Ferelden, and Etheria. Yes, our Heidy loves her video games.
How did you become an archaeologist? 
I first became interested in archaeology during my last year of high school. I don't remember exactly how (or when) but at some point I started showing up at the OAS meetings in Hamilton. I went to McGill the following year and started taking archaeology courses in the Anthropology Department. I just kept going from there…
Where did you go to school? 
I did my undergrad at McGill University in the Anthropology department and my masters at York University in the Environmental Studies department.
If you weren't an archaeologist, what would you be? 
A private detective. Basically, I would like to be Poirot… or Miss Marple. I love to read murder mysteries and think that the life of a detective would be very interesting and exciting. Employing my "little grey cells" to solve crime would be a very satisfying career. Also, from what I gather (mainly from Agatha Christie books), being a private detective entails going on vacation a lot and solving random mysteries. Sounds pretty good to me!
Who is your favourite historical figure and why? 
Margery Kemp – she was the first person to write an autobiography in English. She was born in Norfolk, England in 1373 and led a very devoted, religious life. I took a class on medieval history at McGill and Margery Kemp really stood out as a "unique" person during this time. She travelled a lot, challenged the religious norms of the day, and provided really great insight on day-to-day life during the medieval period in England. She comes across as a bit eccentric at times, but she's ok by me.
If you were an artifact what would you be? 
A musket ball.
What is your favourite site memory? 
My first field school was in Oulu, Finland. We started pretty early every day and the field director was really into classic rock. I have this very distinct memory of driving to the site early one morning, listening to "White Room" by Cream, watching the Finnish landscape roll by, and feeling very, very happy.
My least favourite thing about archaeology is… 
…working outside in hot weather.
To pass the time on site, I… 
…talk to people.
When I'm not working, I like to…
…putter around my apartment.
My motto is…
"Use a grid!"
If I could go back in time and excavate any site in the world, I would choose… 
…Petra.