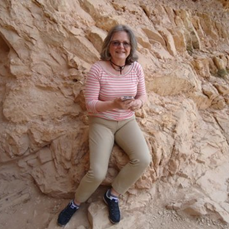 Meet one of our four former partners and ASI's General Manager: Debbie Steiss.
When she's not dealing with the business side of the company, you might find this published lithics expert and avid tennis player in the garden with her precocious cat, Chester. Oh, and she once excavated at the famous Meadowcroft Rockshelter. We're jealous.
How did you become an archaeologist?
In a high school history class, we studied ancient civilizations- Mesopotamia, Assyria, Egypt. I found it fascinating and did my project on the discovery of King Tutankhamun's tomb. I was totally hooked and made two important decisions:  1) to name our regal-looking (but not overly bright) black cat, "Assur" after Assurbanipal, a great Assyrian king who established the first library in Nineveh; 2) to take archaeology courses at university.
Where did you go to school?
University of Toronto for undergrad. and grad. studies, with an interlude between BA and MA at U. of Pittsburgh while working at Meadowcroft Rockshelter, in southwestern Pennsylvania.
If you weren't an archaeologist, what would you be?
I have always been a real animal lover and so probably caring for animals in some capacity OR maybe a geologist, working with rocks and minerals.
Who is your favourite historical figure and why?
As a kid, I remember my grandfather (who was born in 1876), often talking about Abraham Lincoln as such a great man and hero. I think that has always stuck with me. The sheer perseverance of Lincoln, with the weight of an entire nation in turmoil, in doing what he knew was right for the nation marked him as a true leader and ranked as one of the greatest American presidents. I was blown away by Daniel Day Lewis's performance of him in "Lincoln".
If you were an artifact/historic building what would you be?
My job requires multi-tasking and due to my interest in lithic artifacts, I'd probably be an understated, but efficient, multi-purpose combination tool, like a scraper/graver or knife/projectile point, made of Kettle Point chert – my favourite.
What is your favourite site memory? 
A couple that come to mind are having the privilege to work in the Canadian Arctic where the environment is breathtakingly beautiful and the people are gracious and inspiring. As far as site discoveries, in New Mexico on a US. Missile Range, surveying remote drainages and canyons. We found and unearthed two large and complete, Mogollon painted pots inside a rock overhang high in the canyon wall.
My least favourite thing about archaeology/built heritage is…
…mosquitoes/ black flies/ deer flies! (Since I am a magnet for any and all biting insects.)
To pass the time on site, I…
…"whistle while you work."  Just kidding!
When I'm not working, I like to…
…play tennis, definitely, putter around in the garden and read.
My motto is…
"Archaeologists get more interesting as they get older."
If I could go back in time and excavate/explore any site/building in the world, I would choose…
Due to what got me hooked in the first place, I would have to say King Tut's tomb. I cannot imagine what Howard Carter experienced when he was able to catch the first peek into that antechamber of royal furnishings and unbelievable treasures with a sealed doorway leading to more…