Manufacture date: 1860s to early 1900s
Common vessels: teapots, coffee pots, sugar-bowls, creamers and jugs.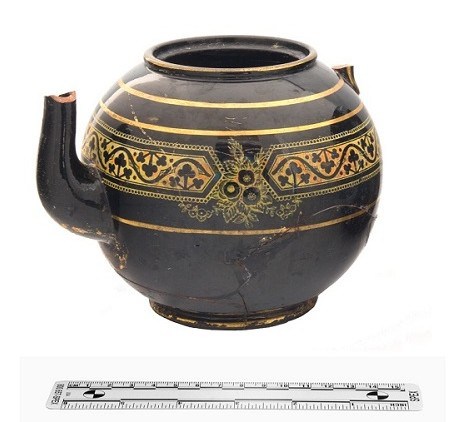 In response to the popularity of Jackfield, several manufacturers began to produce similar, black-glazed vessels. These were less finely made and cheaper. Godden (1991:108) notes that "Jet was particularly associated with inexpensive teapots made in the approximate period 1875-1910." These black vessels enjoyed resurgence in popularity after Prince Albert's death, as Queen Victoria's lengthy mourning period brought black items (jewellery, clothes, ceramics) into style. Therefore, it is likely that most of the sherds we encounter that appear to be "Jackfield" are actually Jet Ware. Godden (1991:108)
Decoration on Jet Ware consists of a lead glaze, often with added transfer printed decoration. Gold motifs are very common.